Textile enterprises shift to ... fashion uniforms
13/03/2017 04:03:59
In recent years, Vietnamese garment enterprises have shifted aggressively to develop the domestic market, especially in the segment of uniforms and labor protection.
The enterprises pioneering in this matter must be mentioned as Viet Tien, Duc Giang, May 10 ... Enterprises have successfully developed the fashion line serving the domestic market. Every business has developed its own strengths to find new directions and has been located in the minds of consumers ...
For example, Garment 10 Corporation is quite successful in the domestic market with the following products: May 10 M Series, May 10 Series, May 10 Expert, May 10 Prestige, May 10 Classic, Pharaon Series, Pharaon Advancer Pharaon Classic, Pharaon EX, Cleopatra, Eternity GrusZ ... May 10 products are available in all modern distribution channels with a unified design for easy identification by consumers.
The designers of this corporation have continuously launched collections of shirts and men's and women's suits with designs, materials, designs and diversified prices suitable for the consumer's wallet. In addition to the traditional products serving mainly the general market segment and medium income, May 10 also launched a line of high-end fashion for the middle class, entrepreneurs and the arts.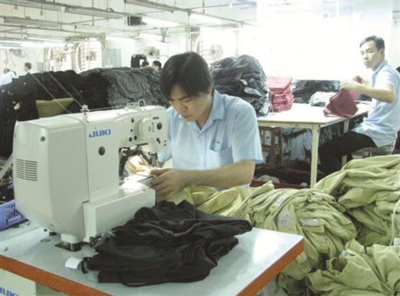 Although in 2016, with the difficult situation of garment companies in the country, May 10 still maintained the growth rate of over 10% over the previous year. With the motto "Vietnamese people must use the best products produced by Vietnamese enterprises" in the coming time, May 10 will continue to expand distribution channels, diversify models and products. This will be a strategic solution and the secret of success of May 10.
Viet Tien garment corporation has penetrated into the field of medical uniforms, school uniforms, some transportation, construction, banking ... Duc Giang Garment Corporation has been producing uniforms and uniforms. Employees for some big clients such as Vietnam National Petroleum Corporation, Hanoi Transportation Corporation ...
Particularly for Nha Be Garment Corporation - NBC has leveraged its strength as a garment company with many high-end products suitable for the office. Nha Be garment company has chosen its own uniform market to serve the demand of customers in agencies, companies, factories, banks ... in the country.
Accordingly, the unit chose Mattana fashion line to expand the development of the uniform sewing market. Tran Thi Thu Hien, Northern Branch Director, Nha Be Garment Corporation, said that Mattana has a good variety of designs for all ages and brands. Mattana has a range of shirts, trousers and trousers. Manufactured on the most modern production line, creating sophisticated lines for the product.
"Each of NBC's costumes is produced by experienced fashion designers in Vietnam and abroad. This factor is the harmony between the dynamic and creative of Western culture and the subtlety and ingenuity of oriental culture, "she said.
Tran Thi Thu Hien adds, Mattana brand has achieved great success, that is into the consumer market favored. In addition, the Mattana brand has been successful in targeting markets such as the post offices, major hospitals and local and international banks, such as the National Hospital of Paediatrics, Viet Duc Hospital, International Bank (VIB), HSBC Bank (Vietnam) Ltd, Coop Bank, Vietnam Joint Stock Commercial Bank for Foreign Trade of Vietnam (Vietcombank), ...
Nha Be very successful with the uniform of the National Transmission Corporation, one of the orders contributed more than 10 billion revenue for the unit. Besides, there are orders for costumes that are specific to each brand's characteristics such as Vietinbank, Vietcombank, VinGroup ...
Currently, the Corporation has received uniforms for many other units such as banks ACB, Navibank, HD Bank; Hospitals 115, 175; Military Telecom Corporation (Viettel); Vietjet Airlines; Vung Tau Petroleum; Viet Long Group; General schools in Hanoi and Ho Chi Minh City. Ho Chi Minh.
In addition, May Nha Be also launched many brands, high quality products meet the expectations of consumers in the country and internationally. The market for uniforms, growth in this market in 2016 increased to 25% compared to 2015. Currently, Nha Be Garment has 300 chain stores throughout the province, large and medium cities. Trading Center across the country.
According to the Vietnam National Textile and Garment Group, with a total domestic demand of up to 40 million sets of garments a year, to meet demand for this item is an activity in the Group's roadmap to occupy the domestic market. And implement the campaign "Vietnamese people use Vietnamese goods." In the context of the world economic difficulties, export orders reduced, the return to dominate the domestic market is an important strategy for garment enterprises.
Therefore, businesses like Nha Be Garment Company need to make full use of all strengths in the industry in order to provide reasonable price, best meet the ordering needs of units and enterprises, Developed in the country.
Hotline:
(84-246) 3618595
Email:
28@agtex.com.vn



| | | |
| --- | --- | --- |
| Currency | Buy | Sell |
| USD | 23 | 23 |
| EUR | 24 | 26 |
| GBP | 28 | 29 |
| HKD | 2 | 3 |
| JPY | 171 | 181 |
| CHF | 24 | 26 |
| AUD | 15 | 15 |
| CAD | 16 | 17 |
| SGD | 17 | 17 |
| THB | 606 | 700 |